I'm lucky enough to live just a few blocks from Central Park, and like many Manhattanites, I use the park as a lifeboat of recreation, respite, and just plain sanity amidst the hustle bustle of both the teeming city streets and the inside of my own head. When I just can't do any more thinking about progressing physical disability, the medical industrial complex, CCSVI, Multiple Sclerosis, or just life in general, I fire up Legs (my wheelchair's name, you know) and head for the park, camera rigged securely to the chair's arm.
One of the major advantages (and, yes, there are definitely advantages) of being in a wheelchair is that the chair is quick (mine can do about 8.5 mph, almost 3 times the walking speed of mere mortals), it doesn't tire easily, and it never needs to pee. Therefore, I've been able to see much more of the park than your average run-of-the-mill walking person. Still, the park is so big that lots of it remains unexplored by yours truly, including, until very recently, two of its major features, the Harlem Meer and the Conservatory Gardens (click here and here for more info on each).
I don't think that most people who live outside of New York realize the sheer size of Central Park. From end to end, the park is about 2.5 miles long, and 3/4 of a mile wide. Most people only explore a fraction of all of that real estate, and when I was still confined to my feet I repeatedly visited the same 20% or so of the Park that was within easy reach of my nonmechanical limbs. Here's a map of the park, with the little red circle indicating where I usually enter Central Park, and the bigger blue circle outlining the area I had not yet visited.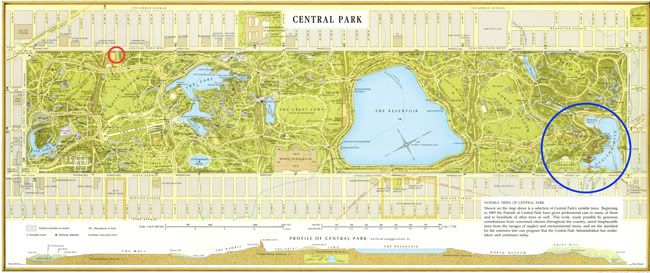 As you can see, the unexplored (at least to me) part of the park is just about as far away from my entry point as you can get within Central Park's confines. I've been meaning to wheelchair it over there for the almost 2 years since I've had Legs, but I've somehow never quite managed to make it, always getting distracted by one Central Park sight or another. The majority of the pictures in the photo gallery featured in the left column of this page were taken with my wheelchair mounted camera in Central Park, which is so rich with interesting geography and people that it could keep a photographer happily busy for a lifetime.
There are parts of the park that are so heavily forested that it's almost impossible to believe that, while traversing the miles of trails within, you're smack dab in the middle of one of the largest cities in the world. The noise of the metropolis is totally silenced, and even the city's skyscrapers can't be seen through the incredible tapestry of old-growth trees. When you consider the value of the land that it occupies, Central Park is really a miracle, a gift bestowed on the city's dwellers by people with incredible insight, who about 160 years ago placed a magnificent jewel right in the center of Manhattan Island. (Click photo for larger image)
About a week and a half ago, on a nice sunny day, I headed out determined not to be distracted in my quest to finally visit the Harlem Meer (meer is a Dutch word for lake) and Conservatory Gardens. Sticking to the park's major thoroughfares, I made it to my destination in about 25 minutes, keeping the chair at maximum speed throughout. For whatever reason, I get a little devious thrill whizzing past struggling joggers, barely suppressing the urge to scream out, "eat my dust!" as I leave each one in my tracks. I guess it's just another way of wanting to raise a huge middle finger to Multiple Sclerosis, as convoluted as the thinking behind that urge may be.
My first stop was the Conservatory Gardens, which are laid out in three distinct styles, with gardens in the French, Italian, and English traditions. Each section has its own charms and some very photogenic statues and fountains. I'm not generally a "flower picture" guy, but even I succumbed to the siren call of the floral residents within.
I then made my way to the Harlem Meer, which is the second-largest body of water in the park, all of which are man-made. The Meer is just as pretty as I expected it to be, and I'll definitely be making many return visits. I even got to see some old-school breakdancing, a photo of which is below.
The trip from my apartment to the Gardens and Meer and back totaled about 9.5 miles, including all the meandering I did when I got a bit lost trying to find a wheelchair accessible route back home. Lots of the paths in the park include extremely bothersome steps, as I guess the planners didn't give much thought to future power wheelchair users when they laid out the park in the 1850s. At the end of the day, I still had 37% of my battery power left, which pleased me to no end, as keeping track of my battery usage has become something of an obsession. I think (I hope) other wheelchair users can relate...
Here is some of the photographic evidence of my visit to the North East reaches of Central Park. Please click on the thumbnails below to see larger images.